Every Wednesday is New Comic Book Day!! Come in and check out what's fresh off the press!
FRIDAY JUNE 23
FREE COMIC DAY 2023 – SATURDAY MAY 6
FCBD 2023 DOG MAN AND THE LEAGUE OF MISFITS
FCBD 2023 STAR WARS HIGH REPUB ADVS & AVATAR LAST AIRBENDER
FCBD 2023 SACRIFICERS #1 IMAGE
FCBD 2023 FISHFLIES #1 IMAGE
FCBD 2023 ANIMAL CROSING & KIRBY MANGA MANIA
FCBD 2023 WEST OF SUNDOWN #1 VAULT
FCBD 2023 UMBRELLA ACADEMY & WITCHER
FCBD 2023 SWEET VALLEY TWINS TEACHERS PET SAMPLER
FCBD 2023 RANGER ACADEMY PREVIEW
FCBD 2023 PUNCH UP! PREVIEW ONI
FCBD 2023 MEXIKID SAMPLER
FCBD 2023 LAST COMICS ON EARTH SAMPLER
FCBD 2023 INVESTIGATORS ALL TIDE UP SNEAK PEEK
FCBD 2023 BABY SITTERS LITTLE SISTER KARENS HAIRCUT
FCBD 2023 ARCHIE HORROR PRESENTS CURSED LIBRARY
FCBD 2023 MADBALLS VS GARBAGE PAIL KIDS #0
FCBD 2023 SMURFS #1
FCBD 2023 OVERSTREET GUIDE TO COLLECTING
FCBD 2023 FRAZETTAVERSE #0
FCBD 2023 CONAN BARBARIAN SP
FCBD 2023 CHOUJIN X & ROOSTER FIGHTER
FCBD 2023 ANIMAL CASTLE
FCBD 2023 CLARK & LEX AND FANN CLUB BATMAN SQUAD SPECIAL EDITION
FCBD 2023 GIRL TAKING OVER A LOIS LANE STORY SPECIAL EDITION
FCBD 2023 DAWN OF DC KNIGHT TERRORS SPECIAL EDITION
FCBD 2023 TEENAGE MUTANT NINJA TURTLES
FCBD 2023 STAR TREK
FCBD 2023 MARVELS VOICES #1
FCBD 2023 AVENGERS X-MEN #1
FCBD 2023 SPIDEY & FRIENDS #1
FCBD 2023 SPIDER-MAN VENOM #1
*FCBD 2023 POP HEROES DC ETRIGAN W/CHASE PX VIN FIG
BLACK FRIDAY 2022!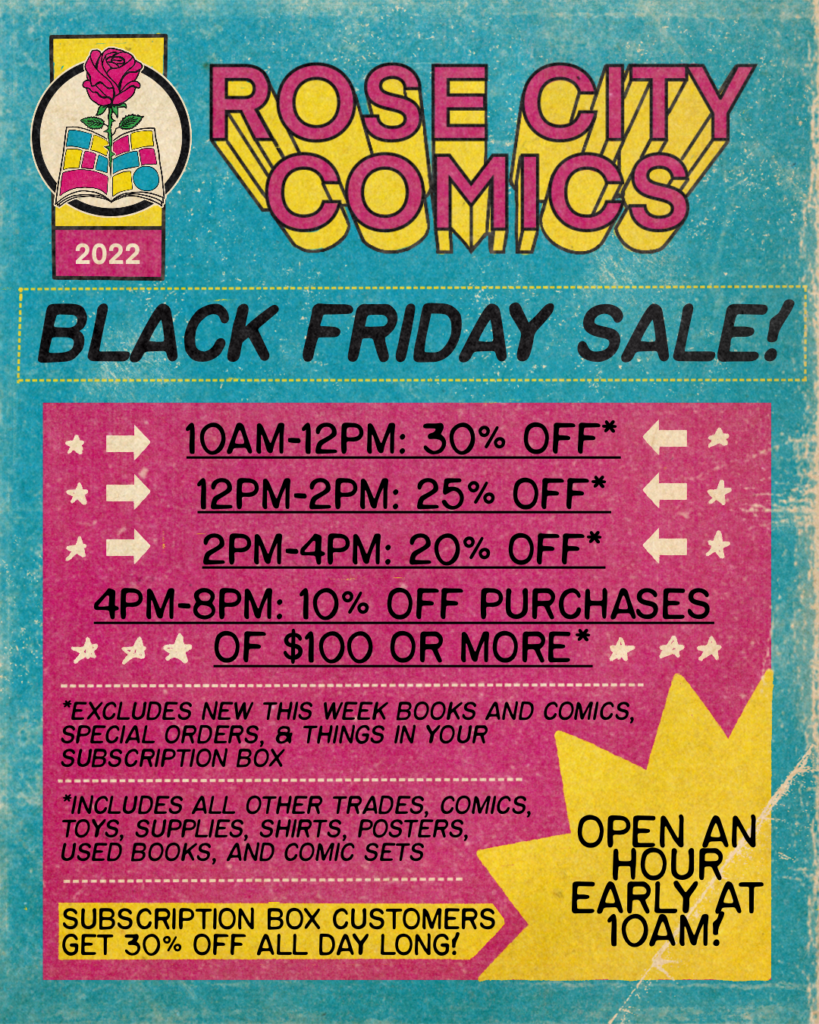 HELL IS A SQUARED CIRCLE Release Event with Blue Collar Wrestling
ED BRISSON SIGNING!
Every Saturday in June, 10% of all sales will go to organizations supporting queer and trans youth across the country.